Is Your Data Safe?

1 in 3 companies report having lost SaaS data. Data in the cloud is at risk without independent backup. Aberdeen Group
Global SaaS vendors like Salesforce and Microsoft don't take any responsibility for your data or how you use their application, only for their own infrastructure and operation. None of the main reasons for losing data - internal errors, malicious actions, ransomware or cybercrime - are covered by your SaaS vendor.
Reasons for Data Loss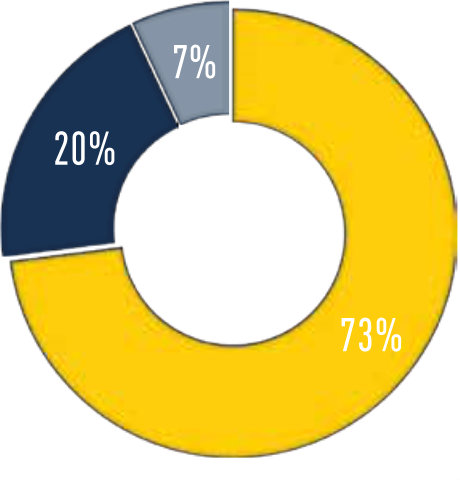 Human Error 73%
Accidental deletion & overwrites 63%
Closing accounts 10%
Hacking & Insider Threats 20%
Hackers 13%
Malicious deletes 7%
3rd Party Software 7%

Source: Aberdeen Group


Data Protection: Who is responsible?
Customer

SaaS Provider

User errors
Accidental deletion and overwritten data

Security attacks
Hacking events
Malware
Malicious insiders

Data Corruption
Sync errors
Operational failures
Power outages
Infrastructure failures
Natural disaster
Yes you are responsible for ensuring the complete protection of your SaaS data, not the SaaS vendor. For example, in the event that data is lost due to accidental deletion – the number one reason for data loss – you are responsible for restoring the lost data. SaaS vendors will not cover data loss caused by your own internal errors, malicious actions, ransomware or any other cybercrime event. In other words, the main reasons for losing data in the cloud are not covered by SaaS vendors.
SaaS vendors only guarantee the infrastructure they provide their users as a service. They do not guarantee your data within their infrastructure. SaaS vendors' limited backup tools and narrow retention policies cannot provide backup or archived copies of your data to be used for recovery and business continuity. They cannot protect against user errors, hackers, ransomware, malicious actions, or unauthorised access from lost or stolen devices.
The Solution: SEP Cloud Application Protection Service (CAPS)

✅ Automated daily backup to an independent location
✅ Regional locations include Sydney Australia (Asia Pacific), London UK (EMEA), Frankfurt Germany (EU), Copenhagen Denmark (EU), Washington DC USA (Americas) and Toronto Canada (Americas)
✅ The broadest coverage in the market
✅ All backup is available 24x7
✅ Quick search function including granular feature
✅ Easy granular & in-place restore
✅ Unique point-in-time restore
✅ Backup – Search – Restore: An all-in-one solution
✅ Customised up to unlimited retention
✅ Sharing feature between users
✅ Simplicity & a user-friendly solution
✅ Compliance with regulatory requirements
✅ Option to add full backup of your endpoints
✅ Data retention even when CAPS is no longer actively used, i.e. when no new backup data is added

Full Protection for Your Cloud Data
SEP CAPS cloud-to-cloud backup ensures full protection of your SaaS data. With SEP CAPS's automated backup to a physical independent & safe location, you can access your data anytime – even if your SaaS application is experiencing downtime. Simple billing according to pay-per-use, i.e. according to actually secured users. This Backup-as-a-Service is a complete solution with everything included (storage, update service, redundant data centres, unlimited retention according to individual requirements, DSGVO compliant) - no extra costs!
Daily Automated Backup
Once set up, SEP CAPS will run a daily back-up of your SaaS data every day, all year long. SEP CAPS guarantees a minimum of 1 daily backup, but normally runs 4-6 backups a day. With SEP CAPS, you can rest assured that your data is backed up & safe.
Unlimited Retention and Unlimited Storage
By default SEP CAPS offers unlimited retention for your Google Workspace data or according to individual requirements. Unlimited storage is included without any additional cost.* SEP CAPS is a scalable backup service, customized to your needs. (*Fair Use Policy applies)
Activating Your SEP CAPS Account
In 3 easy steps, your SEP CAPS backup for your SaaS service is connected and running. SEP CAPS will automatically notify you in case of any backup problems via e-mail. SEP CAPS automatically detects & adds new users to the backup set too.
Quickly Find & Restore
With the Search & Restore functions, you can find & restore any of your SaaS data at any time. Locate specific backups of your data in a second. You may even scroll back & forth in time with the granular snapshot feature. With SEP CAPS, all of your data across all snapshots is available at all times. Quickly restore anything from a single email or file from a single user to a complete user account. SEP CAPS also allows for cross-user restoration of data from one user to another as well as from one SaaS account to another with the same SaaS provider.
Uniquely Tamper-Proof
With SEP CAPS no function allows overwriting of any existing data. The patent-pending blockchain algorithm makes low-level tampering impossible.
What is Backed Up?
Microsoft 365
✅ Mails and Shared Mails
✅ In-Place Archives
✅ Calendar – Tasks – Contacts
✅ Groups (conversations, plans, files, sites, calendar)
✅ SharePoint
✅ OneDrive
✅ Teams
Google Workspace (Formerly G Suite)
✅ Gmail
✅ Google Drive
✅ Google Team Drive
✅ Docs
✅ Calendar
✅ Tasks
✅ Sites
Salesforce
✅ Accounts
✅ Contacts
✅ Leads
✅ Opportunities
✅ Activities
✅ Notes
✅ Cases
✅ Custom fields on objects
Dynamics 365
✅ Compliance
✅ GDPR
✅ Audit Log
✅ Storage
✅ Job Monitor
✅ Validation
✅ Status Monitoring