Censornet
Censornet Ltd has been providing Internet security solutions since 2002, sophisticated yet simple to use web filtering, monitoring and email filtering products for businesses, education, non-profit organisations and service providers.
Unified Security Service (USS) Cloud Platform
A new way of thinking
FREEDOM. VISIBILITY. PROTECTION. The Unified Security Service (USS) cloud platform from Censornet fully integrates email security, web security, cloud application security and multi-factor authentication for both central configuration and management, as well as data visualisation and reporting.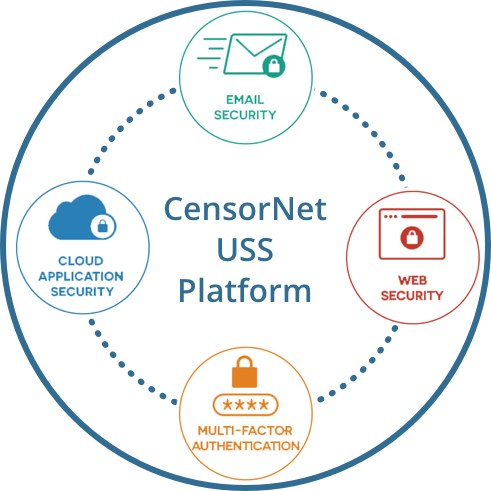 USS provides a 360 degree single pane of glass view across multiple critical solutions, simplifying security, architected specifically and equally for both enterprises and MSPs.
USS enables organizations to move away from the more expensive approach of running separate solutions in silos and allows security teams to effectively and efficiently manage core security defences, in a way that reflects how modern enterprises work today. USS allows users the freedom to access the applications and data they need - regardless of device or location, whilst providing visibility for IT and protection for all.
Benefits
Protect all major attack surfaces on one intuitive platform.
Time to value. Super-fast implementation for untouchable time to value
Ease of deployment. Use agents, gateways, or both for absolute flexibility
Centralized management. Data visualisation, management configuration and reporting all in one place
Real-time is in the DNA
With more than 10 years' experience, Censornet know that security needs to be unobtrusive, transparent and seamless – it's in the (DNA) code.
Unique Architecture. Unlike other solutions, USS does not use proxies whether on-premise or cloud
10+ global locations. Multiple regional data centres for worldwide coverage
Guaranteed response times. Typical response times are 10 times faster than the blink of a human eye
User experience. Frictionless and frustration free for users and admins
Products running on the USS platform …
The platform is included with the purchase of any Censornet product. You can implement any combination of the following products at any time:
Web Security

Protect your organization from offensive, harmful or inappropriate content, and manage time spent on websites that impact productivity.

Cloud Application Security (CASB)

Discover, analyse and manage user interaction with cloud applications.

Email Security

Protect your organization from known, unknown and emerging email threats.

Cloud Multi-Factor Authentication (MFA)

Protection from account compromise through the use of weak or stolen passwords.
Censornet Unified Security Service: Education
Censornet USS enables you to monitor and control web, email and cloud application use. Providing the tools you need to protect your students from cyber-bullying, internet pornography, online radicalisation and web and emailed malware. More school specific information is available HERE.