To successfully implement a DMS (Document Management System) or an ECM (Enterprise Content Management) system a few key points should be considered:
After the implementation, the DMS must be actually used (acceptance).
The initial training period for employees should be as brief as possible.
Setting up the DMS solution should be as straightforward as possible.
The system should integrate seamlessly with the existing work environment.
The DMS/ECM must meet your needs.
You need to be sure that the selected DMS is the right one for your needs. This means that it should be possible to try before you buy, ensuring that you don't end up with the wrong software.
Why agorum® core?
The main feature of agorum® core is its drive based interface, letting users access the system like a normal network drive. There is no need to change existing work habits. For example, files can be opened and closed directly from the Microsoft Office File menu. Every program that works with files and directories (practically all programs) can be used with agorum® core – without adjustments.
Benefits
You can work with all of your existing applications.
Your employees can continue to work exactly as before. (There is no need to go through a complex route to the DMS).
This way, they will need little or no training to get up to speed with the new system.
All DMS/ECM related actions such as workflow, archiving, versioning and full-text search run automatically in the background.
You can copy across existing documents that are stored on an ordinary file server into the DMS. This will provide you with a fully functional DMS solution within a very short time
agorum® core is open source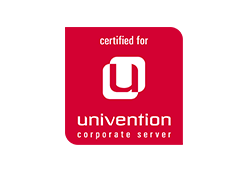 Protecting investments: a large open source community around the system means there is a lot of valuable know how available.
The application's source code is available for free.
You can put the software through its paces in your own IT environment before you even contact us.
Our ready-to-run system will provide you with a fully functional DMS within minutes.
agorum® runs on Windows and most Linux platforms, but is also a "Certified for Univention Corporate Server" solution and available in the Univention App Center
Everything you need in a professional DMS
Workflows / processes
Revision-proof archiving
Summarising client files
Email archiving
Extended search
OCR (automatic text recognition)
Workplace independent access through a web portal
CRM (Customer Relation Management)
Wikis (for documentation)
Forum (for discussions)
and more …