With the major release of UCS 5.0 over a year ago, Univention took an important step towards modernising Univention Corporate Server. Important milestones were the new design and improved user experience through the integration of the Management Console into the UCS Portal, the expansion of the Univention App Center and the upgrade to Debian 'Buster' and Python 3. This blog article takes a look at the developments of the past 12 months and the apps that have been released for UCS 5 since then, and gives an overview of the roadmap.
In May 2021, the release of UCS 5 took place. Important changes were:
New design and improved user interface
Expansion of Univention App Center
New core: Debian "Buster" and Python 3
Simplification and concentration on the essentials
Since the release of UCS 5, installations have been increasing daily. New systems are being installed and existing UCS 4 systems are being updated.
App Center as an essential part of UCS
In the Univention App Center you will find a constantly growing number of software solutions from different manufacturers for a variety of use cases, for companies and public institutions. These apps can be easily installed in the App Center, integrated into your own IT and conveniently managed via the central management system of UCS 5. One aim of UCS 5 is to make the integration of apps even easier and more efficient. Apps can be managed and updated completely independently by the providers. The release process continues to go through internal tests and quality assurance processes to ensure functionality as well as quality.
The update of core elements of UCS also made it necessary to check and adapt all apps. With the release, Univention has made the most important of its own apps directly available, and many others have since been adapted to UCS 5 by the app providers and Univention. Apps that are still outstanding will be updated in the coming months.
For example, the following apps have recently been migrated and are available for UCS 5:
UCS@school
opsi – Client Management
Microsoft 365 Connector
Guacamole
agorum core pro
itslearning LMS Connector
Apple School Manager Connector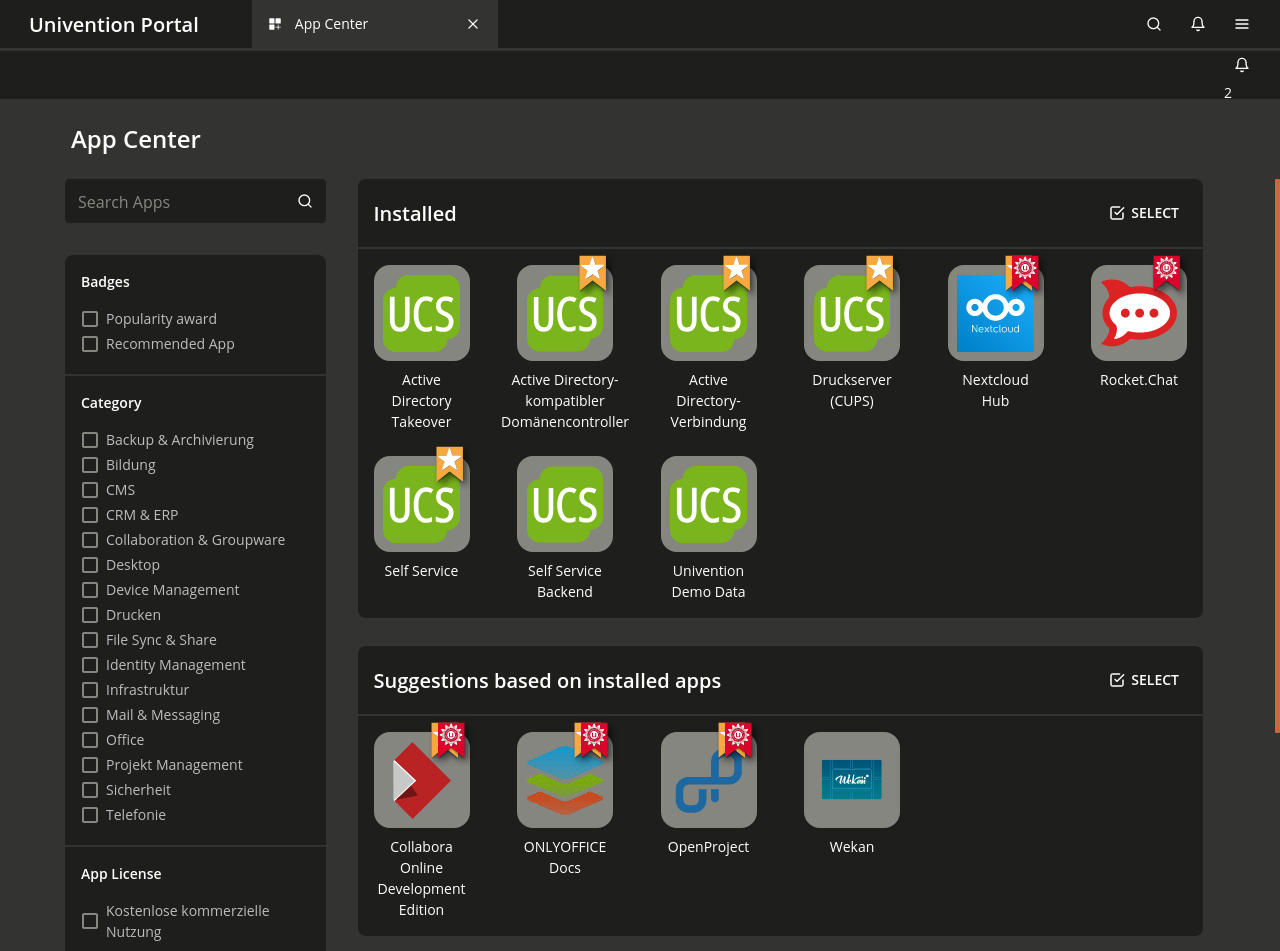 The following apps will be updated in the coming weeks or months and will then be available for UCS 5:
UCS Dashboard with Nagios replacement
Google Apps Connector
audriga Groupware Migration Service
OpenVPN4UCS
Kopano Web App
Kopano Core
Z-Push for Kopano
Zimbra
In some cases, no porting of the app from UCS 4 to UCS 5 is provided by the app provider The following apps will no longer be available in UCS 5. This does not automatically mean that the software is no longer compatible with UCS 5. In most cases, the apps can be installed and used manually on UCS 5 using paths documented by the manufacturer. We or the manufacturers will inform about this individually.
SEP Sesam Hybrid Backup
FileWave MDM
Bareos Backup Server
AV Mail
The focus is on the further development of UCS 5
The journey for UCS continues. Themes that have already been launched will be continued in order to continuously improve UCS. For example new topics are:
Further expansion of accessibility
Integration of Keycloak as a federated IDP
Improvement of the rights and role model in the management of the directory service
We will announce the new planned features at the Univention Summit and subsequently via the Univention blog.
UCS 5 fully replaces UCS 4
Univention is fully concentrating its efforts on the further development of UCS 5. New apps and features will only be further developed for UCS 5 with immediate effect. For those for whom an upgrade to UCS 5 is not yet directly possible, Univention offers the Maintenance Lifecycle below. After that, a change to UCS 5 is strongly recommended.
The maintenance lifecycle for UCS 4 is as follows
Sep 2022: End of Core Edition Maintenance – users of the free UCS version will no longer receive updates for UCS 4 and should therefore upgrade to UCS 5 beforehand.
Jan 2023: End of Standard Maintenance. From this date, security updates for UCS 4 will no longer be available for customers with maintenance contracts.
No more updates for signatures for UEFI Secure Boot
We have also decided that we will no longer update the UEFI Secure Boot signatures that have expired in UCS 4. In current versions of the UEFI BIOS, the signature used by UCS is no longer accepted because it was withdrawn due to potential vulnerabilities in the boot sequences used by UCS 4. However, UCS 4 can still be installed on such hardware in the "legacy" mode of the BIOS.
In the work on updating the signature, which has been ongoing for some time, the release of current signatures by the bodies involved has been halted in principle, as further potential vulnerabilities are being examined. Due to the running times of the release processes, it no longer appears possible to update the signatures in UCS 4 before the end of maintenance. UCS 5 is not affected by these restrictions.
We ask our customers who are still using UCS 4 to take these dates into account and to plan and carry out a migration to UCS 5 in good time. Our support team will be happy to answer any questions you may have about the update. We support our customers and respond to individual needs when migrating to UCS 5.
---
For more information on Univention please see our web site and contact CustomTech (email info@custom.tech or call) to arrange a FREE evaluation and discuss your needs.
Interested? But got questions? A free initial discussion can help provide the answers, book HERE.
(This article is based on original articles by Matthias Weiß on the Univention site).