Gartner has released its new 2018 Magic Quadrant for Secure Web Gateway (SWG) results and Sangfor Technologies is was listed for the 7th Consecutive Year!
Sangfor IAM's position in the Magic Quadrant improved yet again in 2018, outclassing some of last year's vendors and proving that Sangfor IAM is universally recognized as a world-class internet access management solution.

Based on Gartner's market research, the SWG market is still dominated by on-premise appliances, with a total market size of $1.6 billion (USD) combined sales revenue for all SWG Magic Quadrant participants in 2017. Compared to 2016, the overall SWG market growth in 2017 was approximately 16%.
Sangfor IAM has developed steadily since 2015 with impressive growth (see chart below) in existing markets and in newly developed international regions in Asia, Europe and the Middle East.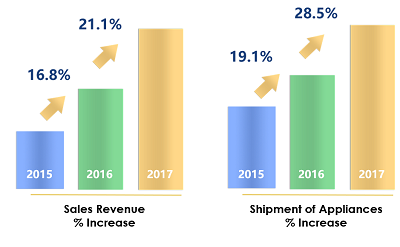 Gartner praised Sangfor IAM's strengths as follows:
■ Sangfor has powerful application control features which allow a more granular control policy to govern the use of web-based applications, sites like Facebook in addition to microblogging services. Sangfor analyses traffic patterns to develop network signatures and block potentially evasive and subversive applications like BitTorrent or Skype. Finally, Sangfor is particularly strong in the Asian market for visibility and control of applications and URLs.
■ Sangfor captures and analyses data from user traffic, allowing customers to monitor user and IoT behavior on the network through a UEBA feature and embedded apps. API's allow customers to use third-party apps in conjunction with Sangfor's data. Finally, due to the high cost of electricity in China, Sangfor has developed a unique feature allowing customers to gauge the amount of electricity wasted within the organization.
■ Granular and flexible control over bandwidth is made possible by Sangfor's in-line transparent bridge mode. Due to the high cost of bandwidth in the APAC region, Sangfor has developed flexible bandwidth usage parameters which are easily specified for downlink and uplink traffic.
Gartner Peer Insights
In addition to Gartner Magic Quadrant, Gartner Peer Insights is a platform for ratings and reviews of enterprise technology solutions by end-user professionals, for end-user professionals.
Sangfor IAM is often praised on Gartner Peer Insights by customers leaving positive reviews about Sangfor's strong network management features.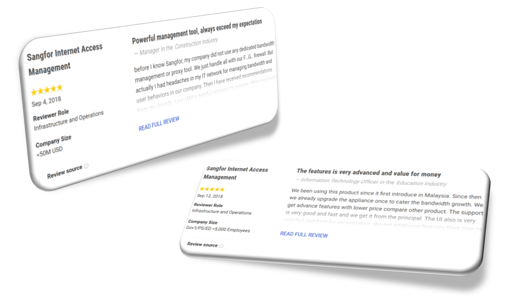 To see the peer reviews click here.
Next Steps…
For more information on Sangfor please see our web site and contact CustomTech (email info@customtech.com.au or call) to arrange a FREE evaluation and discuss your needs.
Source: Sangfor announcement regarding Gartner Magic Quadrant for Secure Web Gateways - 2018